Stacker/Reclaimer Wireless Control
1. Application background
Stacker/Reclaimers can be found in cement, power, steel industries where bulk movement/storage is needed. Stackers receive material from other stockyard equipment via a conveyor network and deposit it in a bunker or pile. Reclaimers remove the same material and deliver it to other stockyard equipment via a conveyor network.
It is very important to have information such as movement of stacker/reclaimer to control room while in operation. For example, if reclaimer is to be started, the reclaimer yard conveyor has to be started first and the same signal is to be given to the reclaimer. In the same way, the stacker yard conveyor has to be started after starting the stacker machine only. So stacker running signal is sent to the Central Control Room (CCR), which in turn, sends signal to stacker yard conveyor. If there is a delay in these signals then tippler chute will get clogged. The main requirement of the signal interlocking is to prevent the clogging of both machines.

2. Solution
The system includes DCS/PLC, LS-RDIO module A, LS-RDIO module B, stacker/reclaimer.
1) LS-RDIO0808 module A connects with DCS or PLC.
2) LS-RDIO0808 module B connects with stacker/reclaimer.
Module A and module B are both transceivers, each one has 8 inputs and 8 outputs. They can control each other. A's input controls B's output. B's input control A's output. And check whether the other end is in normal working, error output alarm function. It is easy to install and convenient to operate.
Please check the following application schematic.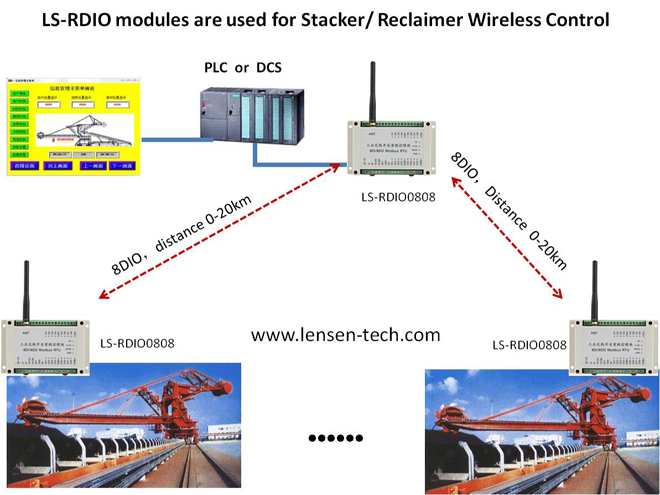 3. Conclusion
Using LS-RDIO0808 modules to instead the previous Control Cable reeling drum really helps you save cost.
1) Avoid from error caused by control cable break off. Save the cost of change cable.
2) No need motor then. You will save a lot of electric charge.
3) No need manual check, it will save a lot of labor cost.