Farmland Irrigation Wireless Control
Automated irrigation becomes a trend with the development of smart agriculture. In order to send appropriate amount water in proper time to your farmland, we design this wireless irrigation system. It mainly aims to Start/OFF your field solenoid valves by wirelessly. You can control different field valves at control room. No need to go field and control each valves manually one by one. This really save us a lot of time.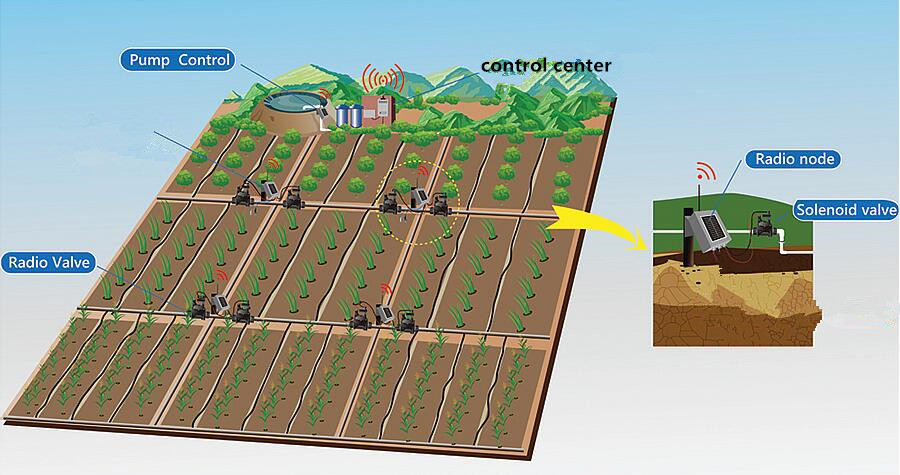 1.
Main controller at
Control center--
to connect
Hunter
/Toro
irrigation controller
2. Pump
controller at pump station--to control pump ON/OFF
3. Solenoid valve
at field
--each station 4 valves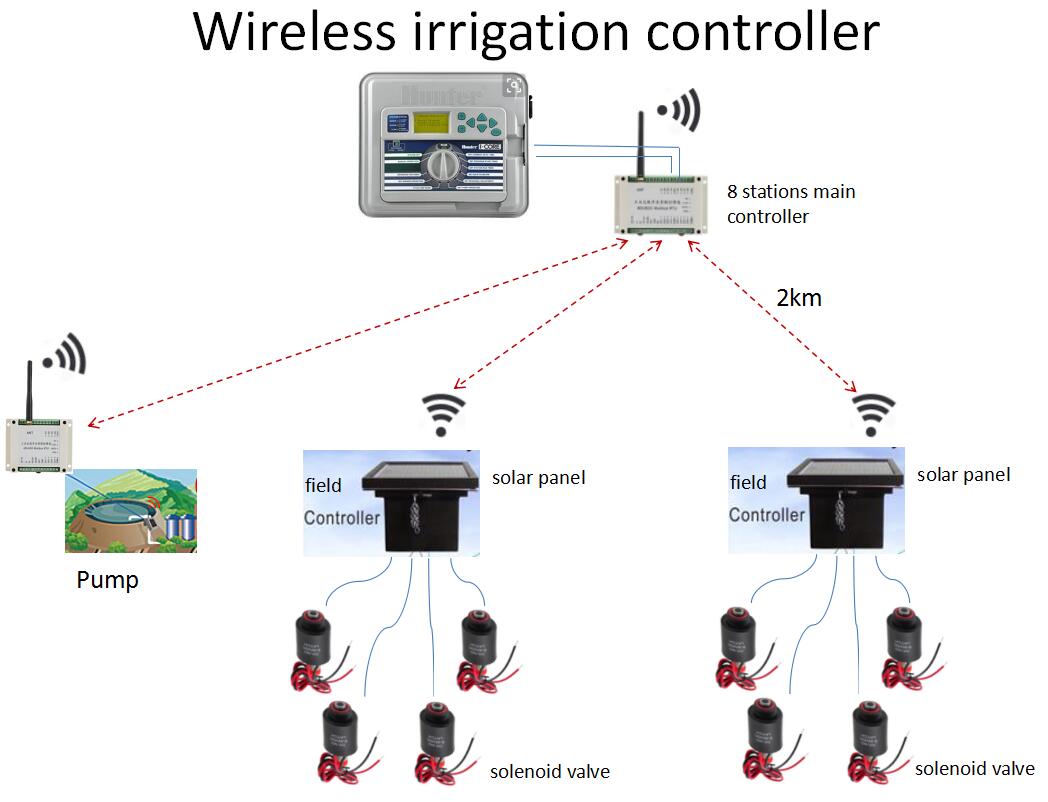 1. Control room, the wireless controller has 8 stations. We also provide 8-station expander in
order to connect 16 or 24 or 36 or 48 stations irrigation controller.
2. Field valve controller has 4 port. Each one can connect 4 valves. The controller use solar
3.
At c
ontrol room, you can switches On the pump
if
any one of the solenoid valve is ON.
Switch off the pump if no valves is ON.
4.
At c
ontrol room, you can automatically switch on
any
solenoid valve according the pre-setted
irrigation controller
'
s program.
5. Wireless connection, no need to operate pump and valve manually. Can do all at control room.
No need to run here and there any more. Save time and energy.
6. Main controller has LED indicator of feedback from pump side and valve controller board.
7. Control distance 2km, no communication fee.
1. Main controller: 12V DC power supply, 8 stations, can expand by 8-station.
2. Valve controller: 12V DC power supply.
3. Pump controller: 2 digital inputs, 2 relay output.
contact max load AC250V/5A
,
DC30V/5A